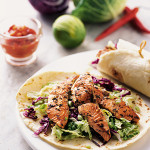 Sound Catch™ Salmon Wraps
2015-01-11 18:35:22
Marinade
¾ cup white wine (Chardonnay is an excellent choice)
2 tablespoons lemon juice
1 teaspoon lime zest
2 tablespoons olive oil
2-3 garlic cloves, minced
1 teaspoon each dried oregano, basil and thyme
¼ teaspoon sea salt
Pinch pepper
1 – 1½ pounds Sound Catch™ salmon fillets, boneless, cut into 2-ounce strips
Wrap ingredients
Flour tortillas
Cooked Sound Catch™ salmon
Green and/or red cabbage, thinly sliced
Salsa mayonnaise (make with ½ salsa and ½ mayonnaise)
Green onions, sliced
Cilantro, coarsely chopped
Instructions
Combine all marinade ingredients and mix well. Add salmon and marinate for 30-60 minutes in refrigerator. Prepare wrap ingredients while marinating. Remove salmon and marinade from refrigerator and drain well. Grill over hot coals, broil in oven or sauté in pan until salmon just flakes. Assemble wraps.
Notes
Makes 8 to 12 wraps.
This marinade is also excellent for grilling or sautéing fillets or steaks.
Sound Catch Salmon https://soundcatch.org/